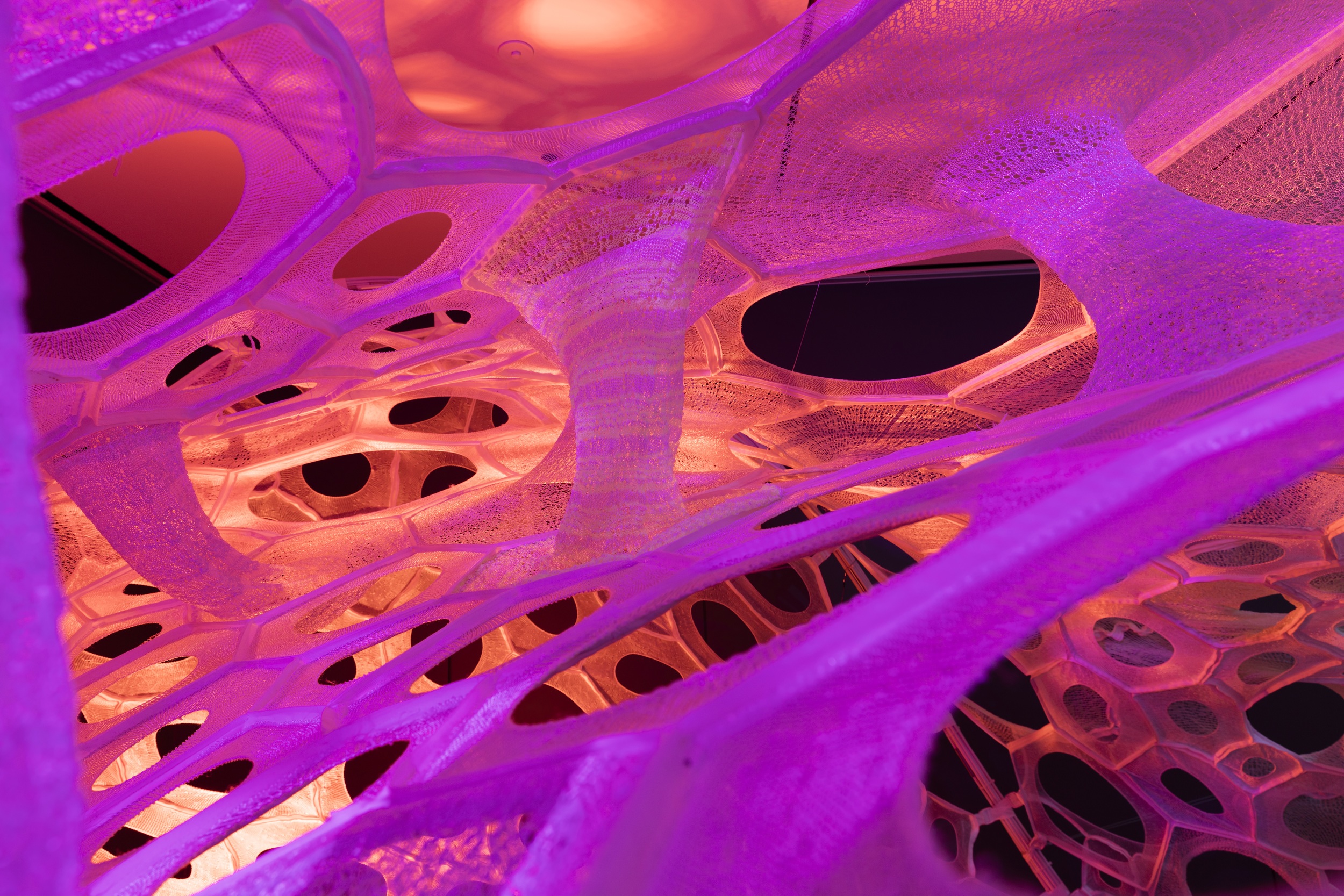 Cooper Hewitt 2016 Design triennial
Mathematically generated and inspired by cellular networks, the PolyThread installation is a freestanding inhabitable form featuring knitted lightweight, high-performing, formfitting and adaptive materials. The digitally knitted fabric structure is held in tension with freestanding integrated fiberglass tubing. An inner structure of textile-based whole-garment knit elements absorbs, collects and delivers light as the materials react to variegated light sources and the presence of people through embedded shadows. Material response to sunlight as well as physical participation are integral parts of our exploratory approach to the subjects of beauty and adaptive architecture. This project aims to engage a new material practice and next steps in digital fabrication in architecture through the production of models and prototypes via cutting-edge parametric and associative software that interface fabrication technologies in related, but alternative disciplines.
PolyThread
A project by Jenny Sabin Studio
Commissioned by Cooper Hewitt Smithsonian Design Museum for "Beauty-Cooper Hewitt Design Triennial", 2016. Currently exhibited at the San Jose Museum of Art.
Designed by Jenny E. Sabin, Jenny Sabin Studio
Design Team: Martin Miller, Charles Cupples
R&D by Sabin Design Lab at Cornell University College of Architecture, Art, and Planning
Engineering Designer, Arup
Knit Fabrication by Shima Seiki WHOLE GARMENT
Sewing and finishing by Andrew Dahlgren and All Sewn Together